This was an awesome weekend for me.  I was able to watch the national teams of Netherlands, Hungary, Lithuania and Croatia.  I learned a ton…these are my Monday thoughts:
Budapest is ready for a professional hockey team
Budapest Sports Arena seats just over 9,479 people for hockey games.  Built in 2003, it is a state-of-the-art facility.  There are bathrooms outside of every gate, as well as concession areas.  There was a great video introduction of the team, complete with music, pyrotechnics and 20 or so figure skaters.  Csuszka the Bear (the name which translates into a bird) was greeting fans in the stands.  There was intermission entertainment.
…and the fans.  They were strong.  A complete cheering section of loud, boisterous and supportive fans…and they seemed to have a good grasp of the game.  Four people on the war drums!
Attendance:  4,350 on Friday and over 6,000 on Saturday and Sunday.  Attendance was better in Budapest than in the Ukraine on the final two days and five times the attendance in Japan.
Zagreb, Ljubljana, Vienna, Bratislava and Prague all have teams that seem to be successful.  Why not Budapest?  If the problem is they are looking for a young, energetic, business-minded professional to spearhead the movement with some strong financial backing, then I know just the guy….
Oh, not to mention, the hockey world would get to know this Hungarian classic sing-along that is played after every goal.
http://www.youtube.com/watch?v=FDyOruGN76Y
Great Britain doesn't care much about hockey
According to the Nielsen ratings, hockey is the most buzzed about sport during the Winter Olympics.  Great Britain has the 21st ranked team in the world.  Here is the publicity their prequalification win got in the Times today: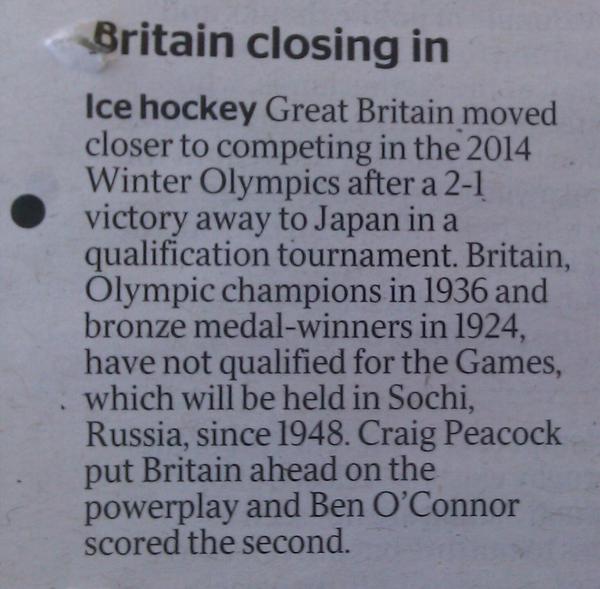 It is my understanding the Great Britain had the opportunity to host the prequalification group they were in, but declined.  I feel bad for the players and I am rooting for them to make it, because the hockey world could use the UK's support.
Live tweeting is hard!
Especially when Hungary decides to put up 13 goals in a game, one game goes to a shootout and the Netherlands put up 23 goals in three days.  My iPhone made it through fine and I am happy to report my thumb is in fine condition.
I am excited for more international hockey
I am considering doing this again for the qualifying tournament somewhere in February and definitely for the World Championships here in April.  I don't have plans to become a sports journalist, but live tweeting, the recaps and all that other stuff really makes me get into the game and pay attention to what is going on.  These different perspectives of watching a game: as a fan, as a statistician and as someone trying to tell others a story is a lot of fun.
Ok-off to do some paid work (unfortunately) and Advanced Macro homework (even more unfortunate).  Hockey starts back up on Friday when the two Romanian MOL League teams come to Budapest.  A little respite from school.